We had a chance to talk over email with Devin "Darty" Purdy of Chron Goblin, one of the many awesome Calgary bands playing at Sled Island this year. If you want to catch them live before they head overseas this fall, head down to Dicken's on Thursday night – they're playing with MANcub, Dead Ranch and stoner-rock legends Fu Manchu.
Chron Goblin has been that sort of high-tempo, power-fun rock sound that pulls a little from old-school metal, and will have the front row warriors moshing while the back row crowd nods in time to the beat. Listening to them for the first time is like taking a drag of your first cigarette – it's harsher than you expected, but you're gonna get hooked to that dark, smokey feeling. That, and it goes well with beer. We asked them a bunch of fairly unoriginal questions, but Darty was kind enough to humour us.
First, the elevator pitch – how would you describe Chron Goblin to someone who's never heard the band before?
Chron Goblin is a "boogie-infused facepunch" class of rock and roll that has been smoking beers on the stage since 2009. Swagger and muscle, charm and wit, we pair melody with aggression and groove for a fresh interpretation of heavy. If you haven't seen us play live before, prepare yourself for a high energy, riff packed, loud and sweaty experience. We've previously released two LP's and an EP, have toured in the UK, USA, and Canada, and have a third unreleased LP up our sleeve. (Coming in October – Ed) If you want to get a taste of our style, check out our video for "Blood Flow" which features petty theft, faux elder abuse, and amateur acting.
What's been different about recording this new album? How did you end up working with Red Fang?
We had the opportunity to play with Red Fang on three separate occasions, the first being Stumpfest in their hometown of Portland. It was there that we had the opportunity to meet their front of house sound engineer Adam Pike who recorded Red Fang's first album. We hit it off, he enjoyed our sound, and we contacted him to record out next album which resulted in two weeks at Toadhouse Studio in Portland, OR this past February. The recording process was the essential rock n' roll recording experience – busy days busting our ass in the studio and wild nights on the town ensuring we made the most of our journey and experiencing the great city of Portland.
What track does everyone need to listen to at least once?
A classic Chron Goblin track that samples a bit of everything that makes us who we are would be "Deserter". A bit of psychedelic, some tempo changes, locked-in groovy riffs, and Josh's melodic wail – it's been a track that almost always makes it into our live set. A version of "Deserter" recorded live in-studio in Seattle will be featured on a local compilation coming out really soon.
As for something off of our new unreleased album, everyone needs to hear "The Wailing Sound" which features guest vocals from Andrea Vidal, vocalist from Portland's Holy Grove. The pairing of her powerful, yet elegant vocals with our Josh's unique sound is something very special to us. We're really looking forward to releasing this track as it's the first time we've had a guest vocalist perform with us. 
With the upcoming European tour, what's venue are you set to play that has you the most excited?
While we are still waiting on our exact tour schedule, we are most excited about returning to London, England as we have established a solid fan base and made some great friends after playing The Underworld during Desertfest 2013. It will also be amazing to play some shows in the Netherlands for the first time!
What's your favourite Calgary venue to play, and your favourite one to go to to watch other bands? Who's your favourite Calgary band, other than yourselves?
Our favourite venue to play is the Republik as it has such a great stage, sound, and sight lines. We're disappointed that the Republik will be closing its doors at the end of the month, but very grateful for all the times we've played there and that we'll have the opportunity to play once more on June 30th for a fundraiser for Dave Zan – the last Republik show ever (for now at least)! 
Our favourite venue to watch bands and hang out at is definitely The Palomino. They book many great artists from a variety of genres, have great food, great staff, and always positive vibes. If we aren't on tour or playing locally, you can pretty much find us hanging out at The Palo' on a regular basis.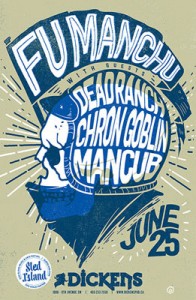 Who is coming to Sled '15 that you can't wait to see, and who would you love to open for at next year's festival, if you could lure any band in the world here?
We are most excited to see and play with the almighty Fu Manchu! Fu Manchu has been a strong influence on our band since our inception in '09 and we've always wanted to see them, let alone have the opportunity to open up for them! We've managed to play with many of our personal favourite bands over the years, but a few that we would love to perform alongside at a future Sled Island would have to be The Sword, Elder, or Graveyard.
TL:DR: Chron Goblin is playing their "boogie-infused facepunch" style of rock at 10:30pm on Thursday at Dicken's as part of this year's Sled Island festival.