Calgary has a lot of talented singers, but not all of them are old enough to be performing in your favourite venues. Some are still developing their talents, honing their voices, learning about the magic of music – and the Calgary Children's Choir has been helping them with their do-ra-mi's for more than 20 years.
The program started in 1987 with a small group of students. "Most of the kids who formed the original choir were attending Rosedale school, where the rehearsals took place at the time," says Marni Strome, Artistic Director for the choir.
The Choir has helped young Calgarians to continue to encorporate music into their lives. "I don't know if any are famous," says Strome, "but many are now professional musicians – singers, performers and teachers. Some are acting in musical theatre and performing in opera. Our Junior choir director (Rachael Mollison Read) and our vocal coach, (Jessica Lutzak) are both alumni of the children's choir, and have degrees in music."
The Choir is actually made up of three choirs : Calgary Junior Children's Choir for kids ages 5-9; the Calgary Children's Choir for ages 10-14; and the Calgary Youth Choir for ages 15-25, but Strome says that they will let participants stay with the Youth Choir "for as long as they want to stay!"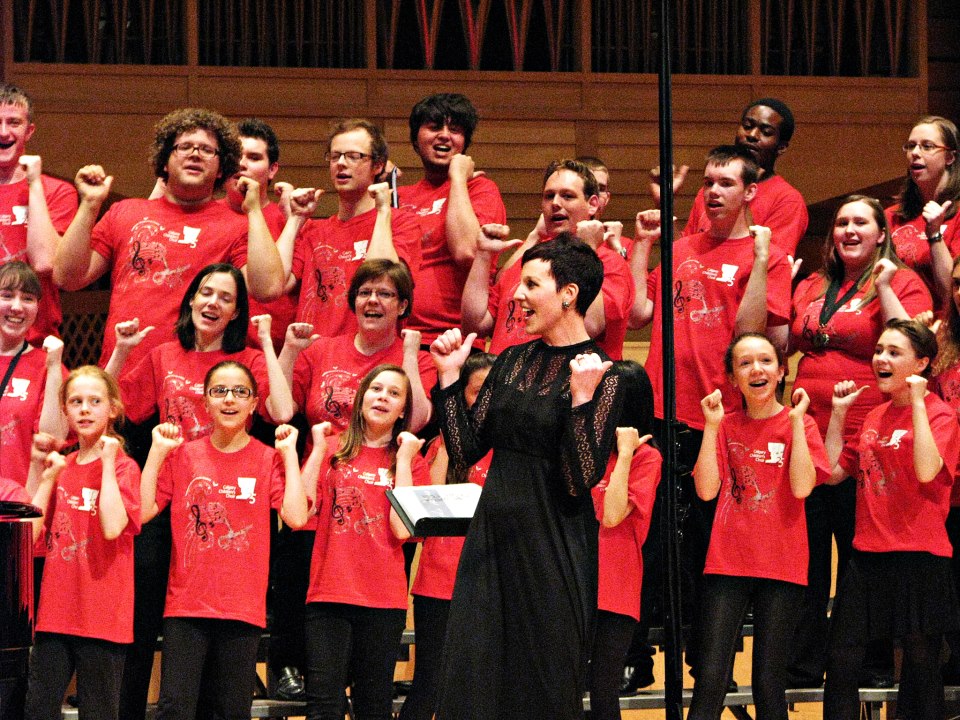 Kids might be shy about coming out to sing, but Strome says the choir is an easy group to join. "The kids are also very welcoming to newcomers. They are always happy to see more people join, so usually new choristers feel at home right away. Compared to what you can often find in a public school setting, they have a supportive peer group who are a positive influence – in the choir."
Kids who seem to have a knack for vocals already probably know about the program, but Strome points out that they aren't just looking for little musical naturals. "Anyone can join," she says. "No experience is necessary, just enthusiasm and a desire to learn to sing well."
New choir members are generally accepted twice a year, in the Fall and in January. "We prefer children to be registered in the late spring in time for the season," says Strome. The season begins in September.
While vocal training and practice are the key of the Choir's mandate, Strome says it goes beyond mere mechanics of singing. "I think one of the main things our organization tries to foster is a sense of community, and a sense of family. Our kids range in age from 5 – 25, and we perform concerts together, and go to choir camp together. There are many opportunities for mentorship, and the "culture" of the choir is one of helping each other and looking out for each other."
"We recognize that lasting friendships are made in the choir setting, and the kids stay in choir for many years, as strong bonds are formed – many of our choristers have sung with us for at least 10 years – so they grow up with us – and we know everyone well."
"A key message is our motto – "singing for the joy of it" which remains a driving focus for me in the planning of the music year. We know all the positive benefits singing has, and singing in a community of supportive people increases those benefits exponentially. We are all about singing good music, singing it well, and having fun."
Children who participate in the Choir can expect the same sort of commitment that you might seen in an age-appropriate sport. "We rehearse one or two times per week depending on the age of the chorister," says Strome. "We have three to four major concerts in the year, and we participate in the Alberta Ballet's The Nutcracker, every December. Choristers tour once every two years, but this is optional, as is fundraising."
Strome notes that there are no fundraising requirements for participation in the choir, but like most youth programs, there are costs. Fees can range from $50-$75/month, which Strome says has some pretty good value for parents. "When you consider that a private singing lesson is at least $45 per 45 minutes, it's a very economical way for children to learn to sing," she says, "and enjoy all the benefits of being in the group and performing in some wonderful venues." Other costs will include uniform rentals and some administrative fees, but Strome also points out that the Choir never wants to turn a child away due to financial concerns. "We do have some scholarships available as we believe that no child who really wants to sing should have to miss out because of lack of funds."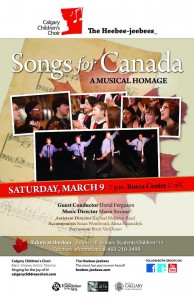 That doesn't mean that the Choir is flush with cash, however. While they don't make it a mandatory requirement for parents and choir members to fundraising, Strome says parents generally prefer to raise their own funds to send kids on tour. "However we are always looking for more corporate sponsorship," she says, "in order to offer more clinics with guest conductors, to commission new compositions from Canadian composers, and to be able to travel to more venues to sing, and to be able to provide more scholarships and support to families that need assistance with tuition and touring." The Choir counts on help from the Calgary Foundation for the Arts, City of Calgary, Rock Paper Internet, and Calgary Arts Development, and organizations who would like to sponsor the Choir can contact them for more information.
The Choir shows a good number of their performances at the Rozsa Centre at the UofC, but they also take their talents out of town whenever they can.
"We have sung at numerous special events through the years," says Strome. "Conferences, The Nutcracker, and of course, we have toured to many parts of Europe, USA, Japan, and other parts of Canada, so we have had a variety of audiences." Concerts in Hawaii, Japan and England have netted them audiences in the four digits, showcasing the up and coming talent of the city around the world. This year will see the Choir visiting France and Spain.
Strome has been Artistic Director since 1992. "I was conducting in the organization when the Artistic director and founder, Rosemarie Sherban, retired. She was my teacher in elementary school and I sang with her in the Mount Royal Children's choir, which she also founded. She mentored me into the position."
She says she is very happy with the program and the opportunities they continue to enjoy. "We have been to many parts of the world and sung in some beautiful cathedrals and concert halls," says Strome, who would like to sustain the program in its current form, but sees definite room for growth, not just in membership, but reaching out beyond those age groups, to perhaps offering music classes for very young children and creating an alumni choir group.
When asked about working with children, Strome says she loves their tireless energy and enthusiasm. "They love to sing and they love to explore music from the first notes to all the parts, to the interpretation of the text. Our discussions about the music we are singing take us EVERYWHERE! I am so amazed and inspired by their ideas and their intelligence. I learn something new every day.
"Kids have so much inherent musical talent, that the sky is the limit in terms of how far we can go."
Calgary seems to be a perfect place for such a choir to grow. "It is a young and vibrant city," says Strome. "Our choir is increasingly multicultural and I like the richness that gives our choir – and the city. We are fortunate in Calgary to have some wonderful performance venues, and a large number of people who really support and appreciate the arts, and particularly choral music. The fact that there are so many choirs for people of all ages in this city is testament to the fact that Calgary is developing into a vibrant and cosmopolitan place for artists."
Good day, eh?We'll be singing some Songs for Canada with the Calgary Children's Choir on Saturday.Buy your… fb.me/FjCyGHsb

— The Heebee-jeebees (@hbjbs) March 6, 2013
The choir will be performing tonight (March 9) at the Rozsa Centre, showcasing a number of Canadian pieces and sharing the stage with local favourites, the Heebee-jeebees. Tickets are $20 at the door for adults, $14 for children, students and seniors. If you can't make it tonight, mark May 11th on your calendar, as the choir will be teaming up with the St. Giles Church Choir and Crescent Heights High School Choir to perform the Requiem by Gabriel Faure, with an orchestral ensemble and organ accompaniment.
You can find out more information about the Choir on their website, follow them on Twitter or like them on Facebook. You can also support them by buying their CD online.