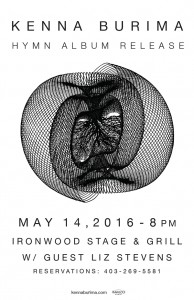 Kenna Burima is one of those artists. She is so much a part of the Calgary music scene, that when she's not either in the crowd or on the stage at a show, you start to wonder if you're in the wrong place. And when she performs, it's amazing to hear the wide variety of ideas on how you would describe her sound. I've heard "smokey," I've heard "pop/folk", I've heard "deep". It's probably all of the above, yet that sort of simple surface description seems to miss a bit of the mark.
Burima's latest solo affair (surprisingly, only her second such album) certainly captures her elusive essence, her distinctive voice demonstrating a depth and sincerity that floats like heavy smoke above a dark wood floor.
There is, unsurprisingly, more than some nice vocals over a pleasant tune here. On her website, Burima delves deeply into each of the tracks on a series of videos, pointing out the underlying themes and overlaying emotions that drive each song. It's certainly more complex than you might expect from any other artist. Circles is about crop circles, which are mash notes from aliens? That might sound ridiculous on the surface, but Burima makes it sound compelling, both in description and in execution. The rest of the album contains songs that go from weightier topics like reflections on the Westboro Church, the Black Lives Matter movement, the plight of missing and murdered Indigenous women, American mass shootings and the #YesAllWomen hashtag; to the aforementioned aliens, and a love song that was, more or less, highjacked by the television series Game of Thrones. So again, there's not a singular way to define this project, other than to call it definitely Burimish.
Burima will be releasing her album into the world from the Ironwood Stage in Inglewood, which seems perfectly fitting to the event. It's tomorrow night – May 14th, and you can contact the Ironwood for reservations. If you miss this, you can make up for it by purchasing a copy of her new album from her website. Or you can just talk to her the next time you see her at a show.