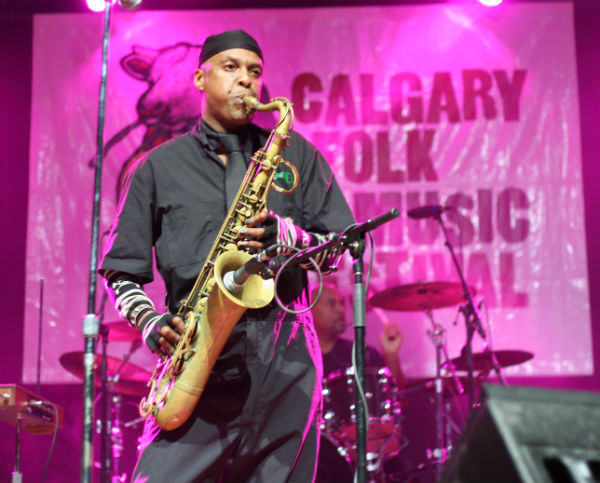 There is no better day than Friday. Your work week is over, and two days of glorious weekend are stretched out in front of you, full of promise and wonder. Everything is possible on a Friday.
The acts at the Folk Fest could sense it, too. The energy that they projected, booming beats that pierced eardrums and shattered expectations, pure powerful music that made it impossible to stand still; Friday made a promise that Saturday and Sunday will have to live up to.
The sessions on Friday afternoon gave Folk goers a chance to see a wide variety of acts, forced together and told to play nice – and for the most part, they exceeded those demands. The Big Beat Pipeline grouping of A Tribe Called Red, Yamataka // Sonic Titan, Hamid Drake and Eya-Hey Nakoda combined sounds like a pool of water catching stones. Each new splash would ripple across the stage, echoing and changing at the same time, huge beats becoming more than simple percussion. The colourful Native dancers added another dimension to the performance, swirling and flowing like music personified.
Andrew Bird played host to the collaboration with Noura Mint Seymali's band (she was unfortunately absent due to illness), Chad VanGaalen and Valerie June. Bird spoke about the hesitation of the "forced" jam session, but the group overcame any doubts and added amazing depth to each other's songs. VanGaalen also had a chance to display his comedic chops; after flubbing a bit on a song, he commented that as the hometown boy, he was allowed to "poop in his hand", and the crowd would still be on his side. They heartily agreed.
The main stage performances managed to keep a lot of people on their tarps, much to the chagrin of Amos Lee, who used every trick in the performer's handbook to get those comfortably seated tarpies up and on their feet. He crooned, cajoled, teased and even covered a few old classics until the sea of green and blue nylon was mashed beneath dancing feet.
The night's final act was perhaps the least folksy in the usual sense, but certainly the most high energy. Fishbone, those cagey vets of undefinable genre, paraded up and down the stage (and a few forays into the crowd), blasting back the night in a way that performers half their age would be envious of. Loud, proud, in charge and full of oomph, they swayed from blue to solid gold, and gave their longtime fans a performance that would live up to anything they might have hoped for from a Friday night at Folk Fest.