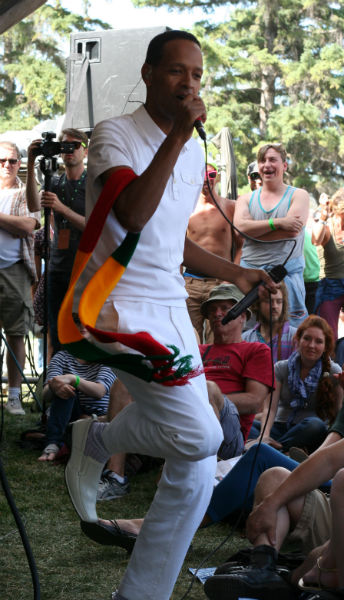 Saturday was everything a folk festival should be. Beautiful weather. A full house. Amazing musicians. Cold beer. Good times.
There wasn't a single spot on the island on Saturday that wasn't saturated with pure goodness. Some the highest of highlights included the mellow but intense sounds of the Hard Truths and Summer Breezes set with Kenna Burima, The Deep Dark Woods, Jadea Kelly and Tiny Ruins on Stage Three, creating one of the thickest crowds for that area for the entire weekend; the aptly named Party at Ground Zero with Melvin Gibbs, Debo Band, Fishbone, and St. Paul and the Broken Bones, which kept the crowd boogieing in the sunshine; and the familiar and wonderful solo stylings of Bruce Cockburn.
Of course, that's just a small sample of the awesome that made up the third day of the festival, and every person you spoke with on the grounds could tell you about another wonderful experience at a different stage. An army of clones could camp out, one per stage (and two in the beer gardens) and still not be able to see and hear everything. The beauty – and the curse – of such a diverse festival is the individual experience, the infinite combination of directions, and the newly created soundtrack that comes home in the head of every single festival goer.
Saturday was infinite.