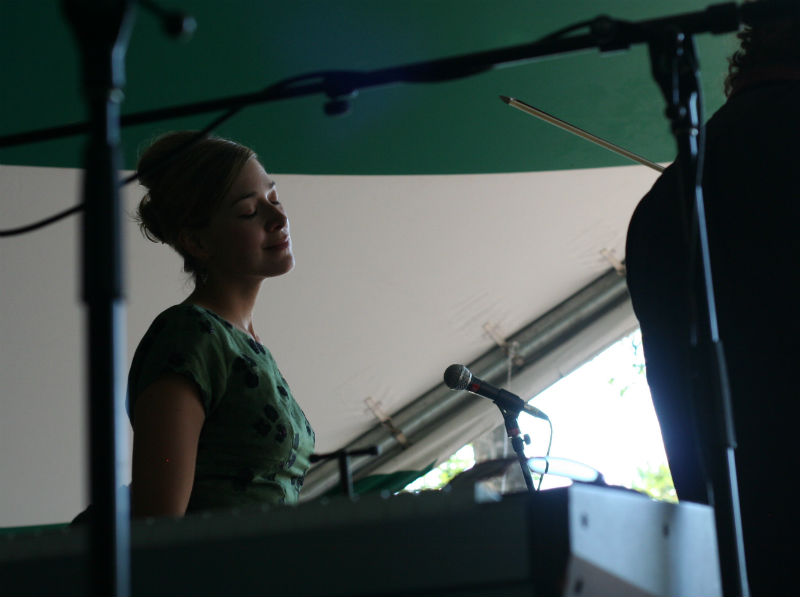 This was the day you were dreading all weekend long, even if you were looking forward to HYDRA. Sunday is that bittersweet Folk day where the previous three days of music have started to take their toll. Your mind is a mishmash of sessions and sets and main stage performances, and there's still this one wonderful day of music to cram in there somewhere.
Did you nurse your Saturday hangover with a little hair-of-the-dog, leaning over the beer garden fence to check out The Deep Dark Woods, Great Lake Swimmers, and Hello Moth? If you did, it was probably a more effective cure than the beer you clutched in your shaky hands.
Did you soak up the sun and absorb the beautiful sounds of Jill Barber? Her soulful and genuine voice entranced everyone who dared wander near Stage Five, pulling in fans with a honeyed voice and an easy grace that mesmerized the masses.
Did you last long enough for the old-school joy that was The Jayhawks? A quick glance might have seen a pleasant group of simple musicians, but a closer listen revealed a true love of the craft beneath their unassuming attitudes. There are bands that look stiff and uncomfortable on the main stage, and then there are The Jayhawks, who owned it in a way that made it seem like their own house, and we were all their honoured guests.
As it was with the rest of the weekend, there was so much more to see and hear and you'll undoubtedly talk to people who, despite going on the same days as you, will have had a totally different experience.
But once the final notes from Matt Andersen and the Mellotones floated out into the hot summer night, all that's left are those experiences. We own them now, like shells plucked from a beach vacation. Cherish them, share them, and compare them with your friends.
It's what keeps us going until next year.